Nothing was going to get in the way of Sam Frost's promotion of her new book Believe on Wednesday.
As she departed an interview on Channel Seven's The Morning Show, the former Home and Away star took sure to keep her spotless pink Fifties-style frock dry.
As she hurried from Seven's Martin Place studios in Sydney to an awaiting car, a publicist held an umbrella over the actress.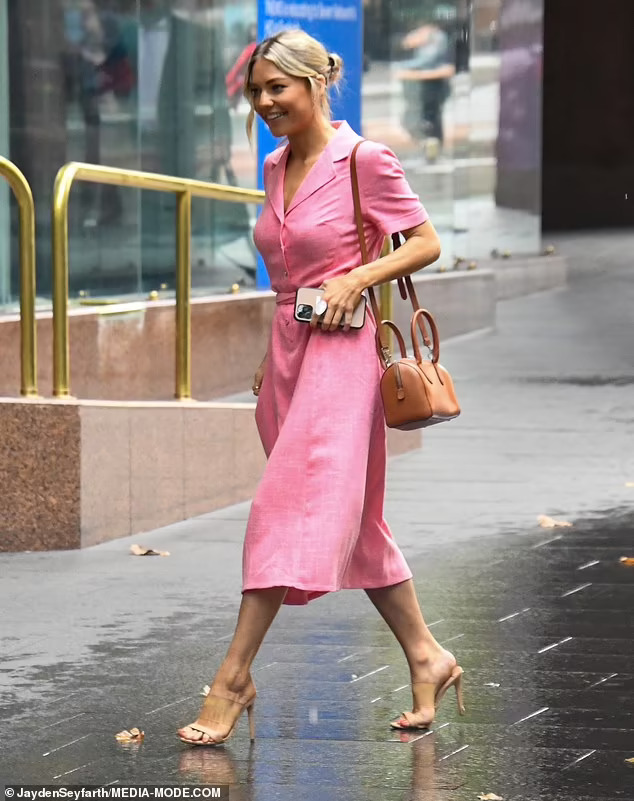 The 32-year-old wore her blonde locks in a beautiful chignon and increased her height with a pair of beige stiletto heels.
Drop earrings completed her look, and she carried a beige luxury bag.
During her interview, Sam stated that she has no regrets about releasing a now-famous video on Instagram in October about her Covid vaccination apprehension.
During an interview on The Morning Show, the star did admit that in hindsight, she could have 'handled it differently.'
'I could have adjusted my wording and things I said, but I think there's been a tremendous lesson learned from that,' Sam remarked, presumably referring to her use of the word'segregation' when discussing vaccination limits.
The film, according to Sam,'served its aim' by giving a voice to Australians who were sceptical of the vaccine.
'I believe [those] folks needed to know they weren't alone,' says the author. So I think it accomplished its goal,' she told Larry Emdur and Kylie Gillies.
During lockdown, Sam stated 'a lot of things [were] compounding each other,' referring to her mental condition at the time she posted the video.
'I knew there were a lot of individuals who felt the same way, but they were too scared to say anything,' she continued.
Sam continued by stating that she did not believe she had been 'cancelled' because of her political beliefs.
It comes after Sam stated in an interview with Stellar magazine over the weekend that unvaccinated Australians were subjected to "disgusting abuse."
When she linked restrictions on the unvaccinated to'segregation' in her teary Instagram video last October, Sam reflected on being 'ripped to f**king bits.'
'It was awful to see unvaccinated people being bullied. 'Friends I'd known for years stopped communicating with me,' she explained.
She explained that she was not a "anti-vaxxer" and that she had never stated that she did not want to have the vaccine.
'Are you kidding me? I'm not an anti-vaxxer.' But I think it's unrealistic to expect everyone to think the same way and reach the same conclusion in the same amount of time,' she said.
Sam, who debuted as Jasmine Delaney on Channel Seven's Home and Away in 2017, left the show in December, two months after disclosing she hadn't received the vaccine.
Seven Productions has a policy requiring all actors and crew to be Covid-vaccinated; nevertheless, sources claim Sam's departure last year had nothing to do with the mandate.
She is now Covid-19-vaccinated to the fullest.
In December, Sam shot her final scenes for the soap at Eveleigh Studios in Sydney.
In October, the actress provoked outrage by revealing she had not had the Covid vaccine and comparing limitations on the unvaccinated to "segregation."
'I was extremely apprehensive about shooting a video or even speaking up about this sort of thing, but I feel like it's getting to a stage now in the world where there's a lot of division,' she said in an emotional Instagram video.
'There's a lot of harsh judgement and comments being tossed around a lot, and it's definitely affecting my mental health, and I know people around me are hurting, especially if they don't want to get vaccinated for whatever reason.'
There are a variety of reasons why people may not get vaccinated, including their medical history, anxieties, family history, and religious beliefs.'
Sam then claimed she hadn't been vaccinated, but that she had discussed her option with both her medical doctor and a psychologist.
'It's a really hard moment to be in society right now, and you feel like you're less of a human, and you feel like others criticise you,' she continued bitterly.
'And you're afraid to express your thoughts or sentiments, and a part of you wants to say, 'Well, it's none of your damn business why I'm not!' And there are valid reasons for it, and I don't want you to pass judgement on me."
Sam disabled her primary Instagram account and blocked all comments on the account for her mental health organisation Believe after receiving backlash for her video. Her accounts have since been reactivated.
In December, Channel Seven announced Sam's departure from Home and Away.
Sam is now fully vaccinated, according to her former co-star Lynne McGranger, who told Nova's Fitzy & Wippa in January that she may perhaps return to the show.